Now Enrolling 2nd through 12th Graders for PEERS Social Skills Classes!
PEERS Social Skills Classes
In South Jersey, Near Philadelphia, PA
Now Enrolling 2nd-12th Graders!
PEERS Social Skills Classes Are Back!
Research-based.  Evidence-based.  Parent-assisted.
DISCOUNTED SCREENINGS END

JANUARY 31
ENROLLMENT ENDS

FEBRUARY 15
Scroll down for a description of the program.
Find out who will benefit most.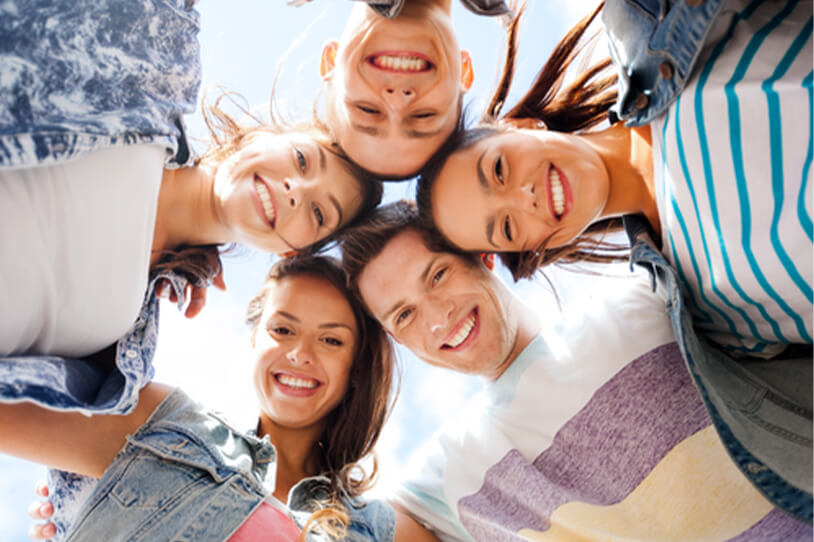 PEERS Social Skills Classes
For Children & Teens in 2nd through 12th Grades
Is your child or young adult struggling with conversations, socializing, or making friends?  Consider PEERS!  Cheerful Chatter was the first to offer PEERS in southern New Jersey!
Reframed and offered in a way that is respectful of neurodiversity, we teach individuals a second social language.  Those new language skills can then be used where and when the individual wants to use them… it's no different than learning Spanish or French at school.
The one that works!  PEERS interventions were developed at UCLA after decades of research and numerous clinical trials to ensure their effectiveness.  Our staff participates in formal training direct from UCLA and will teach your child how to socialize with their peers.
PEERS IS APPROPRIATE FOR
MOTIVATED INDIVIDUALS WITH:
High-Functioning Autism or Asperger's Syndrome
Social-Pragmatic Communication Disorder
General or Social Anxiety
Dr. Elizabeth Laugeson, Psy.D. &
Ellen McSpadden, MA, CCC-SLP, CAS
​Speech-Language Pathologist & Certified Autism Specialist
My son has been in his social skills group for years.
Years?  Our goal is to efficiently and thoroughly teach both you and your child the necessary skills so that genuine, measurable progress is evident in the real world.  Be aware that it takes a lot of practice… But it should not take years.
We can't find a group that meets his needs.
PEERS was designed for individuals who are often left out of other programs… either because they're too high-functioning or too old.
Using a variety of teaching techniques, PEERS shows children, teens, and young adults the in's and out's and the why's and why not's of interaction skills so your child can communicate where, when, and with whomever they want.
He loves his social skills group and he's made friends there, but he still struggles at school.
"Friendship-matching" groups are based on the assumption that because kids share the same diagnosis (for example, an allergy to cats), they'll be friends (with others who are allergic to cats).

Unfortunately, life does not work that way.  Friendships are based on common interests, not because adults group them together or because they have the same diagnosis.
If a child is still struggling, it may be because they haven't learned the skills needed to interact with most people in the real world.

"Skill-based" groups (like PEERS) help children learn a second social language.

We inherently understand that people who only speak Italian will have significant diffiuclty interacting with people who only speak French.  We instinctively know that if people speak different oral languages, a conversation is likely impossible.
What many don't realize is that there are also different social languages and they come with different routines, steps, and rules.  If two people who use different social languages try to have a conversation, they will probably have difficulty connecting, a mismatch will eventually happen, and the conversation could break down.
Our goal is to teach the most common social language in our region to those who are struggling…  We want to give them the choice of who to communicate with and how.
Children & Teens Find Their Niche
Parents Become Social Coaches
Numerous classes and many hours in the classroom… it's intense!  But, that's what it takes to teach the "how-to's" of a new social language.  Once learned, they can hold conversations and develop friendships where, when, and however they choose.
Children, teens, young adults, and their parents/caregivers attend together.  Each class includes a concrete lesson, in-class practice, helpful handouts, peer-to-peer phone calls, and time just for parents/caregivers.
Our various programs cover: conversational skills, expanding social opportunities, choosing appropriate friends, developing friendships, and how to hang-out, handle disagreements, respond to teasing, combat rumors and gossip, etc.  Our young adult program offers lessons on dating etiquette.  All courses are complete with a Graduation Party…  Progress like this needs to be celebrated!
PEERS has been featured in newspapers, on websites, and in broadcasts throughout the country and around the world.  It works that well!  The links on our FAQs page will lead you to articles in the media.  Interested in the research? Click here.
Our Programs Are Ideal for Children and Teens Who:
Are in 2nd through 12th grades
Are verbal and have at or near-average oral language skills
Are successful in at least one mainstream class
Are behaviorally independent
Are struggling to socialize, make, and keep friends
All PEERS Classes
Enrollment is limited to a maximum of 15 participants per class
Parent attendance, participation, and weekly carryover assignments are

required

…  Their progress depends on it!
The following is included: in-class peer-to-peer practice, peer-to-peer phone calls so they can practice during the week, handouts with all the information so there is no need to take notes, and time just for parents and caregivers… We'll celebrate successes and troubleshoot any problems that come up

Cheerful Chatter's classes are based on the research, evidence, and programs from UCLA's Semel Institute for Neuroscience and Human Behavior.  They are research-based, evidence-based, and parent-assisted (a critical detail).
Elementary School Class (2nd - 5th Grade)
Wednesdays: 6:00 to 7:15 pm (doors open at 5:45)
March 15 through June 7 (make-up dates: June 14 & 21)

Spring 2023 Rate: $977.50 (approximately $65 per hour) after coupon

Cost may be broken into up to four installments

Registration is not complete & their seat is not guaranteed until payment has been made in-full
Middle & High School Class
Tuesdays: 6:00 to 8:30 pm (doors open at 5:45)
March 14 through June 6 (make-up dates: June 13 & 20)

Spring 2023 Rate: $1955 (approximately $65 per hour) after coupon

Cost may be broken into up to four installments

Registration is not complete & their seat is not guaranteed until payment has been made in-full
Let Us Know You're Interested:
Phone: (856) 558-9921
Fill out a contact form below.